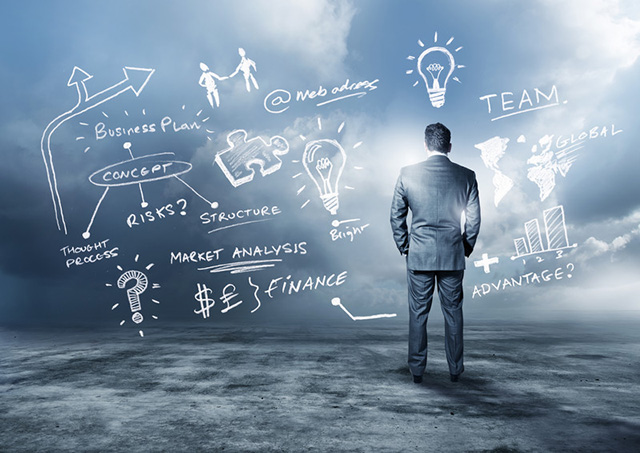 Over the years I've heard many things described as strategy. The word seems to have become symbolic of anything to do with a business achievement. That's not what I have a problem with; it's the "anything" rather than "everything". The "anything" more often than not, includes one thing. For example, the company goal or the project plans. I have also heard budget setting or a margin percentage increase target described as "our strategy".
In this article, I will attempt to give a clear picture of what I believe a business strategy is and the sort of questions you need to ask yourself when defining it.
What is in a business strategy?
Your strategy is based on your company mission but is the culmination of the plans that you have to achieve it (either fully or partially). Those plans are driven from the choices available and the decisions that you make. Everything that you do should be working towards your company mission statement. Make sure that mission is clear and understood before trying to define your strategy.
Strategy needs to be clear simple and compelling and the decisions that you make need to be made after considering all of the relevant options.
What choices do you have?
Out of plans, choices and decisions, I think choices need to be considered first. There may be more things for your company to consider but those three questions should apply to most businesses. Your choices, not in any particular order should be.
Who do you target as customers and who do you avoid targeting?
What products or services will you offer and what do you need to discontinue?
What can we improve upon or change for the better?
For the customer question also consider your competitors and who they are targeting. The market might not be big enough for both of you so how can you differentiate or target their market share.
For products and services, your market research should help. Not just for what products and services to invest in. You may consider what you need to drop when it is coming to maturity or didn't meet expectations. It may be hard but this is business and there's no room for anything that will not grow.
The last one on the list, could be to improve efficiency and margins. Therefore, you would look at the activities that have been letting you or your customers down. If that is unknown then undertake a review. It could be as simple as changing provider or could involve whole operational process amendments.
What decision do you need to make?
When you have an idea of the choices that you have, you should be in a good position to make the decisions that you need. From the many choices that you have, you will need to select the correct options for your business. As you work through them, you may find that each of the questions can be broken down further but they may be business specific.
As an example, you might ask who will be our customers going forward? Your strategic decisions will need to benefit them as well as you.
What constitutes your customer success?
What do your customers want from you going forward?
Do you have the knowledge and understanding of your customers?

What industry or market that they operate in?
Who are their customers (and what do they want and value)?
Who are their competitors?

Can you anticipate your customer's future direction, needs and growth potential?
Formulating plans for your business
So, you know your mission, you know your choices and have made your decisions. Let's call that combination of mission, choices and decisions the "goals". The next step is to formulate plans to achieve those goals and set those to a realistic and achievable timeline.
The plans are the steps that you take to reach those goals and are equally part of the strategy. Those steps will very much depend on the business decisions that you take when setting your mission statement and from the choices you have. That is of course never ending and outside the scope of this article. This is what I think of as strategy which encompasses all of the choices, decisions and plans that you make to achieve your mission.
What strategy is not
Anyway, before closing I just wanted to say what strategy is not. It is not…
A vision or mission statement, this doesn't explain where you are going or how you will get there.
A goal, budget or business plan although elements of these are found in a strategy.
Data analysis, this sometimes leads to strategy but really business choices need to be made and then explored further with data analysis in mind.
Basically, business strategy is not any one thing but every thing that is involved in achieving your company mission.
Communication is key
Finally, another important aspect that should be considered is how do you communicate your strategy to the relevant people. You will also need to get buy in from those responsible for achieving it. It's no good having plans if you don't communicate them to the right people. Once you have your plans in motion, you may also want to communicate to those who are trying to benefit (your customers). Your plans should also benefit shareholders or owners and depending on your structure, you may want to consult with them before putting plans into action.
What does business strategy mean to you?