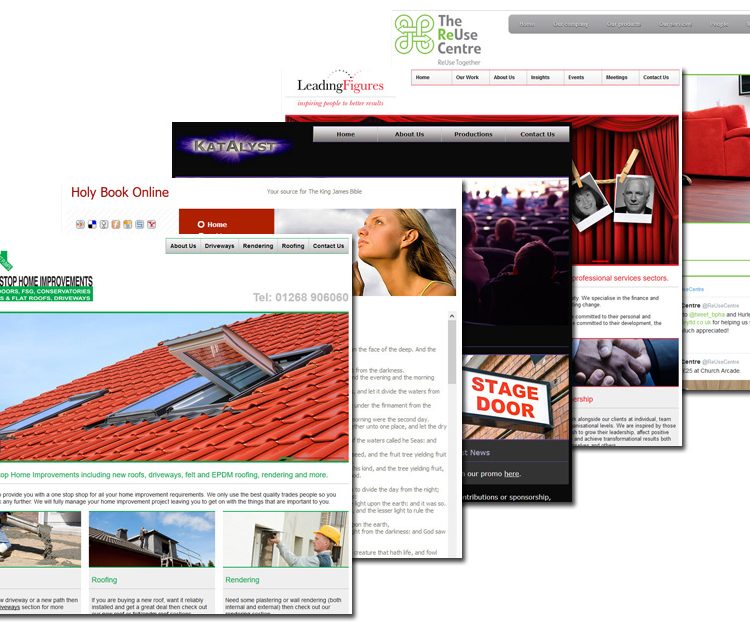 When if first started this site I had intended to write some updates about the work going on at Pat Howe Web Solutions which now trades as My Web Minder. However, after two years I still haven't provided any news in that respect but I'm not going to list out all the work completed in the last two years as I want to make this short.
Apart from registering domain names for people/businesses or setting up email/web hosting accounts, we've been adding bits and pieces or making changes to a few websites. This article not only brings you some news on web/email hosting and domain names but also includes what we've been working on. The five most recent pieces of website work undertaken are listed in alphabetical order and gives a shout to those websites and their new features.
My Web Minder News
A few My Web Minder hosting customers may have noticed a short period of website and email hosting downtime towards the end of February. The provider of the services to My Web Minder had a major issue that they resolved as quickly as they could but there was still a loss of services effecting some services provided to us. Everything is back to normal and stable and should never happen again. I apologise for any inconvenience caused over those days.
I also just wanted to mention those that have .co.uk, .org.uk or .me.uk domain names registered through My Web Minder or other providers that Nominet has removed the multiple year discount and increased its prices. Nominet has always been one of the cheapest registrars around and it's probably why .co.uk is one of the most popular domain extensions in the world. What it means for My Web Minder customers is that the price of renewal remains the same but the renewal period will be for 1 year rather than 2.
Essex One Stop Home Improvements
Essex One Stop Home Improvements offer a whole host of home improvements including new roofs, driveways, felt and EPDM roofing, rendering and more with the aim of providing their customers with a one stop shop for all their home improvement requirements. They will fully manage your home improvement project using top quality trades people leaving you to get on with the things that are important to you.
The work here was on the Driveways page to include some examples of recent projects show how the driveway is transformed in five steps from start to finish so you can see it in action. Four examples were added with 5 pictures each and clicking on the thumbnails pops up a revolving gallery of the pictures.
Holy Book Online
Holy Book Online offers a web-based Christian bible to visitors for free but also offers a prayer book pack for $29.95. The work here was to remove some of the distracting advertising from the top of the pages, have a bit of a tidy up and to include a limited time reduction in the Christian prayer book pack price to $4.95 (from $29.95).
Katalyst Productions
KatAlyst is a theatre production company originating from Hertfordshire. They aim to bring together the talents and resources of both experienced older and talented young people who enjoy live performance, often offering mentoring or shadowing opportunities in their rehearsal and productions. Their Professional arm aims to work with new playwrights' to develop new scripts into production.
This small job was to add some details about their upcoming production working with another theatre company as part of the Brighton Fringe Festival. The new play is called The Brighton Killers and on the home page in the Latest News panel you can find a link to the promo video.
Leading Figures
Leading Figures provides consulting and coaching services to clients in the finance and professional services sectors. They support senior executives who want to achieve transformational results and be leaders both in their sector and in society. They specialise in the finance and professional services sectors.
There were quite a few changes to the site; the home page scrolling banner pictures were changed, client logos were added to Our Work, news articles were added to Insights where you can also subscribe to their periodic newsletter and a new Events page was added to provide details of upcoming events that Leading Figures are attending. There was a bit of rewording of several of the pages too.
The ReUse Centre
The ReUse Centre is based in the centre of Bedford and is both a registered Charity and a Social Enterprise supporting people and communities throughout the county of Bedfordshire. They supply low-price re-usable goods and materials to people in need with their main focus on re-usable furniture and domestic appliances. They do offer everything from chairs, tables and lounge suites to beds, wardrobes, washing machines and cookers and stock a range of affordable new beds, white goods and flat-pack furniture. The have various services such as house clearances that they offer too.
The work here was to add a new page for their Pay Weekly Service. They have teamed up with Bedford Credit Union to work together to help local people afford new white goods, beds and furniture. They have developed a programme where locals can apply for an affordable loan so they can purchase brand new items for low weekly payments. The payments will be reasonable and affordable over a period of not more than 53 weeks.
Latest news and website work from My Web Minder