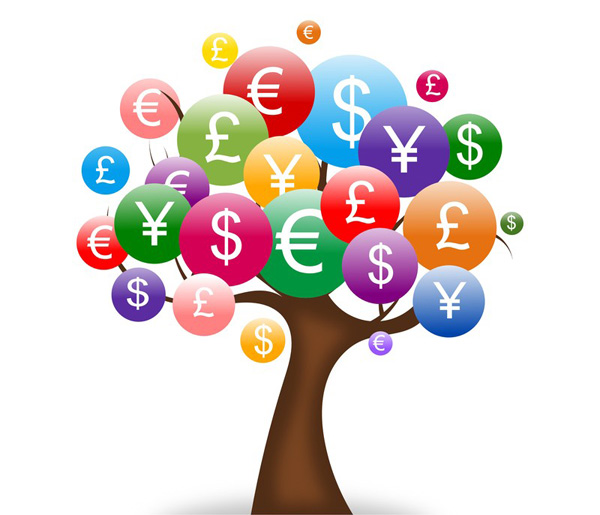 Anyone that conducts any sort of business now-a-days must have an internet presence. You will not survive or grow (the aim of any successful business) without providing a place online for people to find you.
Most people looking to engage with the services you offer or to purchase the products that you sell will do some sort of research online. They will use a search engine directly; they will find a link on another website, an email or get a recommendation from one of social media friends. They could also arrive at your website by finding your domain name on print advertising, business cards or simply by word of mouth. If you do not have a website, you are missing out on a lot of potential custom.
In this article I will explain why you need a website and why driving traffic to it should be central to your marketing plan.
Why a website?
Now-a-days, people treat a website address in the same way as they do a physical address or telephone number. If they know how to find you online themselves they will more than likely trust a recommendation or advertisement.
If you do not have a website to backup what you are offering then I would like to know how you intend to attract any new business. Word of mouth can gain you a few extra customers over time and they are usually good leads but this rate of growth might not what you are looking for. If you don't have a website, even a word of mouth recommendation will have less value as the potential customer will not be able to check out your business for themselves.
Advertising in newspapers or on television is expensive and this can give you short term gains but unless you have a website you'll have nothing to reaffirm your message when your potential customer wants to investigate further. Even if you gain nothing extra short term, having a website allows for potential leads that didn't take up your offer during the advertised period to find you in the future. Having a website to direct people to whilst advertising is like planting your own money tree. You might not see the benefit straight away but when the tree grows you'll reap the rewards.
My wife hired a plumber recently from one of the trader rating websites and he told me that he relies totally on this trader website. I asked him why he doesn't have his own website and he told me that he had spent thousands of pounds on advertising when he started up and had nothing left in his marketing budget. His advertising bought him a few short term leads that didn't actually cover his expenditure and now that money is not working for him. He could have invested some of that budget in a website and made it search engine friendly for much less than he spent advertising. He may not have got those first few leads but if he had invested in a website he could have made his budget back and a lot more by now.
In my opinion, the only type of business that wouldn't need a website is one that is setup to fail and even then they could probably do with one to help in the company's short lifespan. Why would you setup a business that you intend to fail in the long term? There are cases where this would happen (bodge-it-and-scarper) but I believe most businesses are never intended to be setup like this. That said, having a business without its own website will be implying that you have no confidence in your company's long term future.
However, whilst having a web presence is a good start for every company, it does need a bit of work. Your website should have everything that your existing or potential customer needs to be able to engage your services or buy your products. At the very minimum it should have a method of contacting you, a telephone number, an email address, a contact form or even details of your premises (and opening hours if your business is done in person). Your website could start off simple and grow over time as you, your company, your competitors, your potential customers and other marketing forces continue to evolve.
Your marketing plan
Traditional media is much less important than it used to be 20 or 30 years ago as the internet has taken overtaken television and print to become the most widely used source for information. For anyone under 30 and quite a lot of people older than that, the internet is a way of life, so it makes sense to tap into that marketing channel as soon as possible. I live quite a distance from the telephone exchange and any time our broadband access goes down is the end of the world to my kids.
I read once that your website should be your marketing strategy and I believe that statement because even though there is still a place for traditional marketing channels, your goal now should be to drive them to your website. If your website is good enough, it will convey a far better message and first impression than a person answering a call. The phone call should also be an option for those people who prefer it or for the next stage after they have been to your website.
Your website should be the central point of everything about your company. It is your chance to shine and show off what you are good at and what your company stands for. You have absolute control over your website, how it portrays your company, your brand values and what you are offering.
At a very minimum, your website is your very own online sales brochure or store front but it can also be some much more. Your website can allow you to engage with your existing customers and potential customers online. You can; share your latest news, advertise special offers, link to your social media community, collect newsletter subscribers, connect with partner sites, show testimonials and much more. See the picture below for a few ways of driving traffic to your website.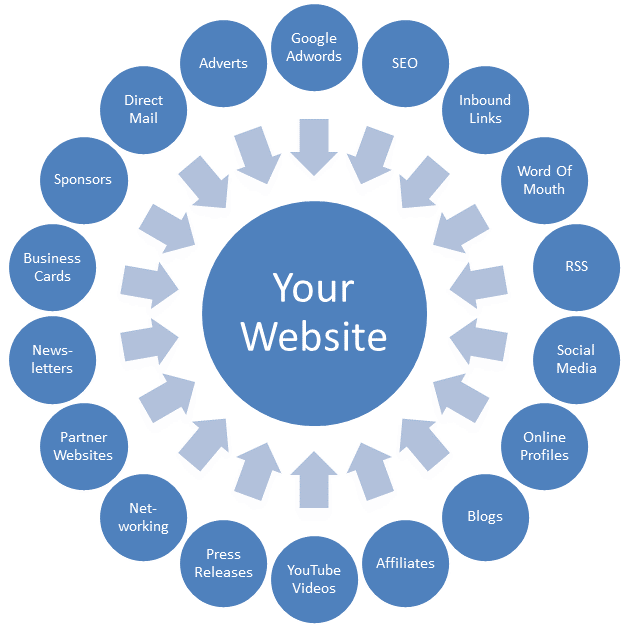 Obviously, you need to put a bit of effort into your whole online presence but a large part of your marketing plan needs to be devoted to driving traffic from as many sources as possible to your website.
I am not saying to give up with your traditional marketing campaigns as you should carry on with the types of actions that work for your company. However, investing in your website will give you the greatest value for the least cost over the longer term so should be a major part of your marketing plan.
Plain and simple, every business needs a website and the most successful ones will be those devoting time to driving traffic to their website.
Why driving traffic to your website should be your marketing plan